Yeah, you heard me right. Lactation cookies.
If you're looking for a super tasty, chewy, oaty chocolate chip cookie then you can scroll by and ignore the whole lactation thing. You can even leave out the brewer's yeast and flax seeds if you don't fancy tracking them down, though they do have other alleged health benefits, which I'll expand on a little below, and don't affect the taste. Don't worry, you won't find boob milk on the list of ingredients.
What are lactation cookies?
Put simply, they are cookies with ingredients to boost breastmilk supply.
I stumbled across the idea after my mum hounded me to drink Guinness to help get my boobs working a bit better after my son was born. Given my poor tolerance for alcohol and my even poorer tolerance for beery, stouty beverages I really wasn't keen, but I was getting a bit desperate. I took to Google to try and find an alternative and the concept of "lactation cookies" came to my attention.
I read a lot of these recipes and, I'll be honest, quite a few of them were a bit too health-foody for my liking. I want my cookies to taste like cookies, not hamster bedding. If I'm going to be reaching for a snack with a baby on my boob at 4am, it had better be worth the risk of getting crumbs on his head. So, I did my research into the ingredients to make sure I was including the key components, and endeavoured to create a lactation cookie anyone would enjoy, even if they aren't sleep-deprived and slightly haggard.
What is in lactation cookies?
I did a fair bit of research on the topic and the common "active" ingredients were oats, flaxseed and brewer's yeast. Each of these ingredients have (supposedly) beneficial properties, whether or not you're lactating.
Brewer's yeast has iron, potassium, selenium, zinc, protein, magnesium and B vitamins, as well as probiotics. I bought mine from Holland and Barrett in debittered powdered form, which worked really well. From what I've read online, it can be a bit unpleasant otherwise. I really couldn't detect the flavour in the finished cookies.
Flax seeds are an ancient crop with a whole host of health benefits, including fibre, omega-3s and lignans, along with plenty of other vitamins and other nutrients. Most importantly, in this scenario, they contain phytoestrogens, which supposedly help breastmilk supply. I recommend using ground flax seeds wherever possible, as the husks on whole flax seeds make the interior kernel harder to digest. Plus, if you want to make this recipe vegan, you can use the flax seed to make an egg replacer to bind the cookie. More on that later…
Oats are another great iron source, which is why they appear in most recipes I've found for lactation cookies. They may also help to lower cholesterol and lower blood sugar.
There are other things you can throw in there, like chia seeds, and I sometimes do, but these three ingredients are the Big Daddies.
Do lactation cookies work?
I can only speak for myself, but for me the answer is a resounding "YES!"
I was adamant that I wanted to exclusively breastfeed, and I did my best. But, after a whole night of feeding with a still-hungry baby screaming at me and both boobs running dry, I accepted that I needed to add formula into the equation, pun half-intended. After that point I was increasingly desperate to find ways to get my supply up to meet my son's requirements, and these haver certainly made a difference. Plus, breastfeeding is surprisingly hungry work, and having a semi-healthy snack to hand is essential.
Will lactation cookies make me produce breastmilk if I haven't had a baby?
No, eating lactation cookies won't make anyone's breasts spontaneously productive, so there's no need to worry about sharing these with your friends, family or co-workers and giving them leaky nips.
Can I make vegan lactation cookies?
This recipe is vegetarian, but with a couple of simple swaps it could be made vegan.
To replace the egg, simply add 7 tablespoons of tepid water to your flax seeds and leave for around 5 minutes to make an egg replacer. As a substitute for the butter, simply exchange with the margarine/vegan spread of your choice. Additionally, you'll want to double-check your chocolate chips are dairy-free.
The only difference in the method is that you will need to use a non-stick cooking surface as it they will want to stick to the tray. A silicone baking sheet works a treat. My first attempt at veganising these resulted in cookies with "added fibre" in the form of greaseproof paper stuck to their bottoms…
Without further chit-chat, here is my recipe for oatmeal chocolate chip lactation cookies!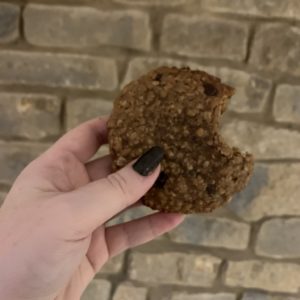 Oatmeal Chocolate Chip Lactation Cookies
Chewy, oaty, chocolatey cookies with bonus ingredients to promote breastmilk production.
Equipment
Baking sheet

Oven

Mixing bowls

Kitchen scales
Ingredients
Dry Ingredients
240

g

rolled oats

210

g

plain flour

(use gluten-free if required)

5

tbsp

debittered, powdered brewer's yeast

(can be omitted for regular cookies)

3

tbsp

ground flax seed

350

g

sugar

(I use a blend of 100g demerara, 100g coconut sugar, 100g caster sugar and 50g dark brown sugar)

½

tsp

baking powder

½

tsp

bicarbonate of soda

(also known as baking soda)

½

tsp

ground cinnamon

250

g

chocolate chips

(I like to use half milk chocolate and half dark)

1

pinch

salt
Wet Ingredients
1

medium

egg

1

egg

yolk

250

g

unsalted butter

½

tsp

vanilla extract
Instructions
Preheat your oven to 170°C/350°F.

Measure out your dry ingredients (except the sugar) and add to a mixing bowl. Lightly whisk together until evenly dispersed.

Melt the butter in the microwave. Add the sugar and mix vigorously until the mixture is reasonably smooth. Add in the vanilla extract and stir through. Leave to cool slightly.

Lightly beat your egg and extra yolk before adding to the sugar and butter mixture.

Pour your wet mixture into the dry, stirring with a wooden spoon to combine. When the dough becomes too stiff to stir, work it with your hands. It should be a nice, pliable texture and not too sticky.

Take meatball-sized chunks of dough and roll in your hands, before flattening into cookie shapes. this mixture doesn't spread, so if you leave it in a ball it will make something more akin to chocolate chip rock cakes. You should get around 20 decent-sized cookies.

Bake in the oven for around 20 minutes, until the very edges are crisp. They will seem too soft, but will firm up considerably as they cool. Don't overbake or they will become hard and biscuity as opposed to chewy.

Leave to cool on the baking sheet until cool enough to touch, then transfer to a wire rack. Store in an airtight container for up to 4 days, or freeze.
Notes
You can use more or less any sugar, but my combination works best for me. Using all demerara will give you slightly crunchier cookies, all light brown sugar will be slightly softer, all caster sugar will have less dimension of flavour. I wouldn't recommend using all dark brown sugar, or they will be quite treacly.
The dough can be frozen after stage 6 for ready-to-bake cookies, just give them an extra minute or two in the oven.
You can swap out the chocolate chips for other mix-ins, like nuts or dried fruit.